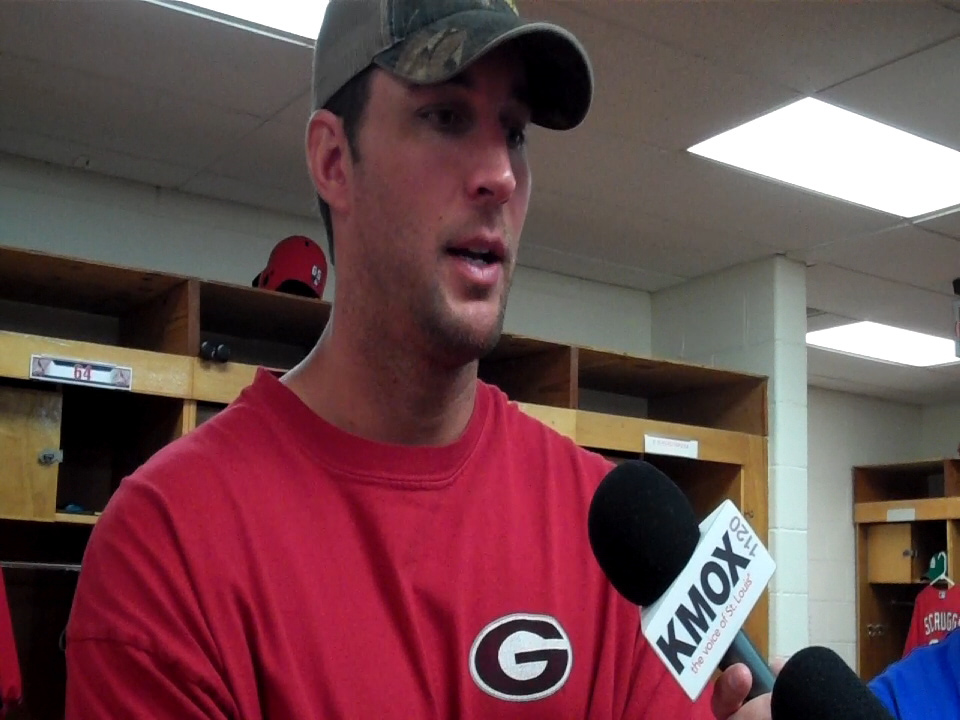 JUPITER, Fla. — Yadier Molina drove in three runs and Adam Wainwright shut out the Nationals for the second straight start as the Cardinals earned a 3-2 win on Wednesday at Roger Dean Stadium. Both clubs have one Grapefruit League game remaining before departing Florida.
Wainwright finished the spring riding a scoreless-innings streak of 15 1/3 innings. The last 13 of those came against the Nationals, who tallied one hit in five frames of Wainwright's final tuneup before his Opening Day start. The Cardinals pulled their ace after 80 pitches (58 strikes).
Wainwright struck out six and walked none. He issued one walk in his 22 1/3 spring innings.
"I'm very comfortable working both sides of the plate with several different of my pitches, moving my ball around, sinking and cutting it," Wainwright said. "I felt good out there, and a couple guys really took some tough at-bats. Bryce Harper always takes tough at-bats. He fouled some pitches off and got my count up. Other than that, I felt good."
For the second straight start, Wainwright outdueled Nationals right-hander Gio Gonzalez, who allowed three runs (one earned) on seven hits in five innings. After a passed ball advanced runners to second and third in the first, Gonzalez allowed a two-run, two-out single to Molina.
Molina padded the St. Louis lead with an RBI single in the third, an inning that was extended by an error. Molina entered the day with three RBIs in his first 19 games played this spring.
The five-inning start was the longest of the spring for Gonzalez, who allowed a combined eight runs (five earned) on 18 hits in 18 innings.
The Cardinals used Wednesday's game to get their first look at right-hander David Aardsma, the latest reliever to enter the bullpen competition. Aardsma, who signed a Minor League contract with the Cardinals after being released by Cleveland on Friday, stranded two runners while pitching a scoreless sixth.
Caleb Ramsey hit a two-run single in the eighth for the Nationals.
Harper was ejected in the fourth inning for arguing a close play at first base.
Up next: The Cardinals wrap up Grapefruit League play on Thursday with a 12:05 p.m. CT game against the Marlins at Roger Dean Stadium on MLB.TV. Michael Wacha, who will start in Cincinnati on Wednesday, will be making his fifth start of the spring. He has allowed three runs on 10 hits in 15 1/3 innings this month. This will be his second spring start against the Marlins, who will send Brad Hand to the mound to oppose him.
Jenifer Langosch is a reporter for MLB.com. Read her blog, By Gosh, It's Langosch, and follow her on Twitter@LangoschMLB. This story was not subject to the approval of Major League Baseball or its clubs.
BY DOUG FERGUSON AP GOLF WRITER – The Royal & Ancient Golf Club, exclusively for men since it was founded 260 years ago at St. Andrews, will vote in September on whether women can join the club.
"It's an exciting day for the club," R&A club secretary Peter Dawson said Wednesday. "There will be quite a bit of internal discussion between now and the September vote. It's a matter for the members to determine. All indications are very supportive."
A statement from club said that all committees were "strongly in favor of the rule change" and asked members to go along.
The move was hailed by British sports minister Helen Grant, who was hopeful a favorable vote would encourage other single-sex golf clubs to follow suit.
Dawson, however, said the vote would have no bearing on whether the British Open is played on links courses that exclude women as members – Royal St. George's, Royal Troon and Muirfield, where Phil Mickelson won last year. The Open returns to Troon in 2016.
"I don't want you to think there's any connection between this vote and these issues," Dawson said. "What other clubs choose to do in the UK is not connected to this. … To be entirely honest, we're not here to put pressure on other clubs that have supported The Open Championship and other R&A championships."
The Royal & Ancient Golf Club of St. Andrews has about 2,400 members from around the world and dates to 1754. The clubhouse is among the most famous buildings in golf, overlooking the Old Course at St. Andrews.
Augusta National for years was the symbol of men-only golf clubs because it hosts The Masters every April. The club announced in August 2012 that it had invited women to join for the first time – former Secretary of State Condoleezza Rice and South Carolina financier Darla Moore.
Even though Augusta National went 80 years without a female member, it had no policy that barred women from joining. The R&A had such a policy, and that's what will be voted on in September.
Dawson said he did not think Augusta National's decision had any bearing on the R&A Golf Club.
"We noted what happened at Augusta," he said. "They have their own procedure of doing things. We are doing this because of our governance role."
He also said the R&A did not feel pressure from any of its corporate sponsors, who were subjected to the debate at the British Open.
"You can always ask that question: `Why now? Why not 10 years ago?' The R&A have been considering this. It's been on our agenda, on our radar, for quite some time," Dawson said. "The feeling is as society changes, as sport changes, as golf changes, it's something the R&A needs to do, and is doing now as being forward-looking as we can."
The 2,400-member club and the group that runs The Open are separate entities.
For years, the men-only Royal & Ancient was in charge of the Rules of Golf for every country in the world except for the United States and Mexico, which are governed by the USGA. And it operated the British Open, the oldest championship in golf.
Ten years ago, the administrative duties were split off into a corporate structure that is called "The R&A," of which Dawson is the chief executive. That's the group in charge of the Rules of Golf and organizing The Open and other R&A championships.
And while "The R&A" has female employees, its committee and board roles are populated by members of the Royal & Ancient Golf Club. So there are no women in leadership roles when it comes to rules and championship golf.
That likely will change with a favorable vote in September for female members.
"This is welcome news from the Royal & Ancient Golf Club of St. Andrews, and I urge its members to follow their committees' recommendations and vote `yes' for women members," Grant said in a statement. "It would mark a step in the right direction for the sport and I would hope encourage the remaining golf clubs that still have anachronistic single-sex member policies to follow suit."
While the members have access to the R&A clubhouse behind the first tee at the Old Course, R&A members belong to a club, not a golf course. The seven golf courses at St. Andrews are open to the public.
ERIE, Pa. – Drury dug itself a deep early hole, stormed back to take the lead, but then watched top-ranked and unbeaten Bentley pull away down the stretch for a 74-66 victory over the No. 6 Lady Panthers in the NCAA Division II Elite Eight late Tuesday night at the Erie Insurance Arena.
Coach Steve Huber's Lady Panthers finished the season with a 27-4 mark, but not before playing Bentley's Falcons to only their second game decided by fewer than double-digits in what has become a 33-0 season for wire-to-wire leader in the top spot of the WBCA/USA TODAY Top 25 national poll this season.
Sanayika Shields matched her career-high with 21 points and added a game-high 11 rebounds to lead the Lady Panthers, who also got 16 points from Annie Armstrong and 10 points from Paige Wilson on a night when Bentley accomplished its goal – keeping DU's 6-foot-7 standout, Amber Dvorak, under wraps.
Facing double-teams the entire night, Dvorak grabbed nine rebounds, but managed just two points on 1-for-9 shooting and fouled out in 22 minutes of playing time, snapping a streak of 24 consecutive games in which the Minnesota transfer and All-Midwest Region and All-GLVC First Team choice had scored in double-figures.
Nevertheless, a gritty bunch of Lady Panthers threw a real scare into the Falcons particularly with about 10 minutes to go, when the Lady Panthers – who trailed by 13 points at one point in the first half – took a 52-48 lead after Armstrong's 3-pointer with 9:50 to play. It was the first time all season Bentley had trailed in a game with less than 10 minutes remaining.
But the Falcons responded like the veteran team they are, with seven players either seniors or graduate students on a squad making its third Elite Eight appearance in the last four years. Bentley reeled off a 9-0 run over the next 3:24, with Courtney Finn's layup making it a 57-52 lead for the Falcons.
The Lady Panthers had it back down to a three-point deficit (64-61) with 2:56 to play after another Armstrong 3-pointer, but the Falcons countered with back-to-back buckets from three-time All-America and senior forward Lauren Battista and Finn – who had 30 points and 10 rebounds while playing all 40 minutes – to finally squelch Drury's last true threat.
"I'm very proud of my team tonight," first-year DU coach Steve Huber said. "The best decision I ever made in my life, probably other than marrying my wife, was leaving a great institution at Creighton and coming to Drury and being able to be a part of 10 kids that bonded, bought into me and bought into a team … that wasn't given much respect nationally and ended up going 27-4 and in my opinion, probably losing to the national champions.
"It was two good teams playing tonight, and we lost to a special team … that's what it all boils down to."
The Lady Panthers couldn't hit shots early and fell behind 15-4 in the game's first five and a half minutes, got the deficit back down to six, then watched Bentley push it back to 13 (29-16) on Jen Gemma's jumper with 6:24 to go in the half. But Drury answered with a 12-4 run over the next five minutes, fueled by five points from freshman reserve guard Paige Wilson, and eventually trailed just 36-32 at the half.
"We have a 'never back down' mentality," Shields said. "We weren't just going to let them blow us out."
Led by Shields' 11 boards and nine from Dvorak, Drury outrebounded a Bentley team that led the nation in rebounding margin, beating its foes by an average of 11.5 rebounds per game. It was the first time all season the Falcons had lost the rebounding battle to a foe.
Drury also held Bentley to .397 shooting (on 23 of 58), only the third time this season the Falcons had been held below 40 percent. The Lady Panthers, however, made just 23 of 59 shots (39 percent), including 5 of 19 from 3-point range.
Finn hit 7 of 11 shots, including 4-for-5 shooting from 3-point range, and made 12 of 15 free throws to get her career-high 30 points. Battista, saddled with foul problems that limited her to 11 minutes in the first half, scored 13 of her 20 points after halftime as the Bentley duo rallied the Falcons, particularly late, to move into Wednesday's second semifinal against Cal Poly-Pomona. It was the 915th career win for Bentley coach Barbara Stevens, who now has a Falcons team in the Final Four for the ninth time since 1989.
Meanwhile, it was the final game in a Drury uniform for three seniors – the graduate student Dvorak as well as Kylie Williamson and Bethanie Funderburk. Dvorak leaves as the Lady Panthers' record-holder in blocked shots in a single season with 60 after swatting two more on Tuesday, and her 502 points were the fifth-most in a Drury single-season; Williamson scored 749 points (tied for 15th on the all-time DU list) and grabbed 434 rebounds (eighth) in four years; and Funderburk finishes as Drury's No. 2 all-time scorer with 1,716 points and No. 7 on its rebounds list with 518.
But more importantly, their legacy will say they took a Drury team that faced transfers and turmoil in the preseason – leading to a slap-in-the-face, fifth-place projection by the league coaches in the GLVC West Division poll – and turned it into the third Lady Panthers team to make it to an Elite Eight in the program's 14-year history.
"I love our three seniors … Bethanie and Kylie won every wind sprint this year, and along with Nique, they came ready their senior year and did everything they needed to do to get us here," Huber said. "We'd have liked to have played two more games, but that wasn't the case. And a year ago, Amber's a 6-7 girl in a (University of Minnesota) marching band. She came a long way, and not just as a basketball player. I can't put into words how much she's grown as a young lady."
And with a nucleus returning of Shields – who hit 8 of 10 shots and played 37 minutes –  Shelby White, Armstrong, Wilson and Hannah Dressler, Huber says the Elite Eight ought to expect a return visit from the Lady Panthers.
"This girl to my right (Shields) and her teammates, I promise, will be back here next year," Huber said. "We've got something in us and we're not satisfied. I'll be honest, I thought we were going to win tonight. But we lost to a class organization, a class coach and a couple of very good players (Battista and Finn) who showed up very big at the end of the game tonight. But that takes nothing away from what my 10 players did tonight. I think they played a great basketball game. I became a better basketball coach tonight, and I think they'll become better players next year."
Added Shields: "As a team, I think we're already ready to get back in the gym to work to get back here next year."
Congratulations to the Willow Springs 5th & 6th grade volleyball teams. Both teams took 1st place at their 4th annual club bear tournament this past Saturday.
The 5th grade finished 8-0 & 6th grade finished 10-1.
5th Grade Champs

Front row (Left to Right): Madison McDaniel, McKenna Cox, Destini Bates; Backrow: Marie Bowen, Maggie Graves, Cheyenne Clinton & Ashtin Roberts. Other members of the team not pictured are Ashley Kelley & Autumn Hogan.
6th grade team members are:
Rebecca Hann, MacKenzie Cox, Zoe Sharpe, Tessa Duddridge, Chyann Watts, Emily Daniels and Emily Scarbrough.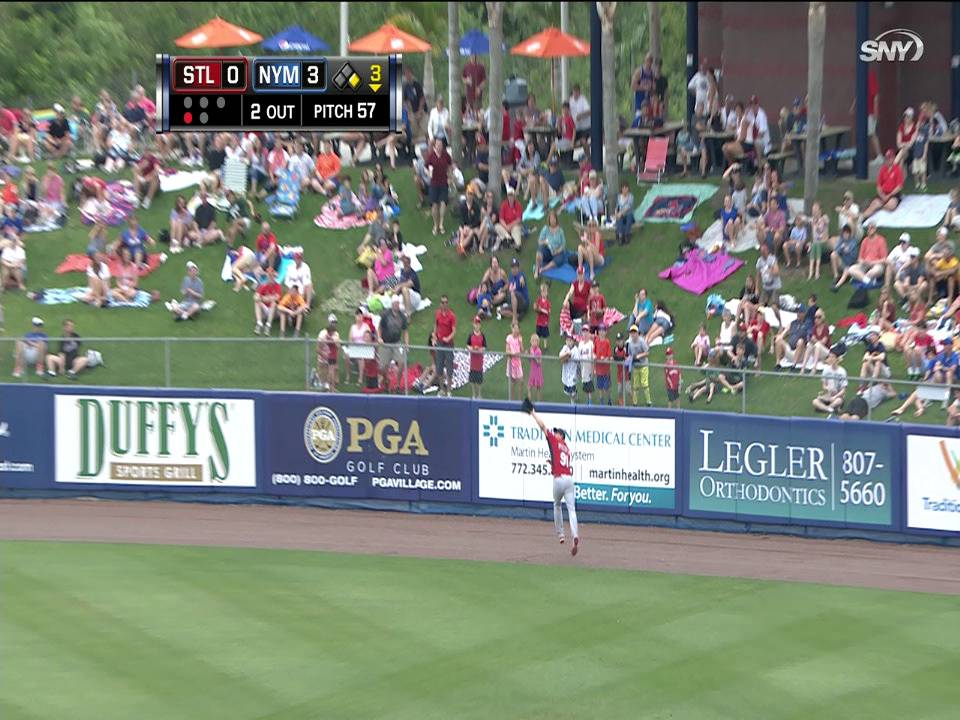 PORT ST. LUCIE, Fla. — With Jenrry Mejia bearing down on him, Daisuke Matsuzaka needed a strong start on Tuesday to quiet his skeptics and lock down a rotation spot.
Something like this should suffice. Matsuzaka blanked the reigning National League-champion Cardinals into the seventh, leading the Mets to a 5-3 win at Tradition Field.
"I went up there knowing this would be my last chance to show what I can do," Matsuzaka said through an interpreter. "I think I've done pretty much everything I can and showed what I can do out there. The decision is up to them now, and we'll see what happens."
Cardinals starter Shelby Miller worked five innings, striking out four, walking three and allowing three hits.
A day after Mejia lowered his Grapefruit League ERA to 2.89 with five strong innings, Matsuzaka was just as impressive; he scattered three hits and three walks over six-plus innings, leaving after hitting the first batter in the seventh, who later scored. The outing lowered his spring ERA to 3.86, with 17 strikeouts in 18 2/3 innings.
Per terms of Matsuzaka's contract, the Mets must inform him by Tuesday whether he has made the Opening Day roster.
The Mets did all their damage against Miller in the third. After Ruben Tejada and Eric Young, Jr. sparked the rally with a leadoff walk and a bunt single, Daniel Murphy's double plated both of them.David Wright then moved Murphy to third base with a groundout, and Curtis Granderson scored him with a sacrifice fly.
Playing in his second consecutive game after missing a week with right calf soreness, Murphy finished 2-for-3. The Mets fielded a lineup resembling the one they will use on Opening Day, albeit with Lucas Duda playing first base instead of Ike Davis. The Mets also batted their pitcher eighth for the second time this spring.
The Mets were cruising to victory until Vic Black relieved Matsuzaka with no outs and a man on first in the seventh. Black faced three batters and did not retire any of them, plunking one, throwing a wild pitch and allowing three runs (one inherited). So successful down the stretch last summer, Black now sports a 6.75 spring ERA with more walks (nine) than innings pitched (eight).
"I like to think back to my two previous springs, and they were bumpy and rocky," Black said. "There's just something about games in-season that get me to click. I'm not relying on that, because they still need to see that I can go out and compete and perform. But right now, I'll just get another outing and go from there."
Insurance runs came for the Mets on Travis d'Arnaud's RBI single in the sixth and Omar Quintanilla's run-scoring knock in the seventh.
Up next: The Cardinals will serve as the visiting team for Tuesday's game at Roger Dean Stadium against the Marlins at 12:05 p.m. CT, live on MLB.TV . St. Louis will face off against Marlins ace Jose Fernandez as it sends Lance Lynn to the mound for his final spring tuneup. The right-hander has a 6.35 ERA in four Grapefruit League games, including three starts, after giving up three runs in four innings against the Marlins last Thursday.
Anthony DiComo is a reporter for MLB.com. Follow him on Twitter @AnthonyDicomo. This story was not subject to the approval of Major League Baseball or its clubs.
After opening Missouri Valley Conference play this past weekend, the Missouri State Bears (9-12) will play a pair of midweek non-conference games, traveling to Stillwater to meet the Oklahoma State Cowboys (16-8) Tuesday (March 25) evening before returning to Hammons Field to open a five-game homestand against the Arkansas State Red Wolves (13-10) Wednesday at 6:35 p.m.
The Bears halted a nine-game losing streak with their 4-3 win over Wichita State Sunday, rallying for a run in the top of the ninth inning after the Shockers had pulled even in the bottom of the eighth. Oklahoma State dropped two of its three road Big 12 games with Baylor over the weekend, while Arkansas State took two of three from UT Arlington. The Red Wolves enter their Tuesday game with Memphis having won seven of their last nine contests after starting the year 6-8.
Oklahoma State enters Tuesday's game with a 9-6 advantage over the Bears in a series that dates back to 1987. The Cowboys claimed a 6-0 victory last week in the two clubs' first meeting of the season in Springfield and have won three straight from the Bears under second-year head coach Josh Holliday. MSU, just 2-6 vs. OSU in Stillwater, suffered a 5-4 setback to the Cowboys in their last trip to Allie P. Reynolds Stadium in March 2013.
The Bears split their 2013 season series with Arkansas State, taking a 6-2 win in extra innings before dropping a 7-5 decision in Jonesboro last March. MSU has won 17 of the previous 26 meetings in Springfield, including both games played by the two clubs at Hammons Field in 2012. Head coach Keith Guttin has enjoyed a successful run against ASU over the years, going 34-19 in the series since 1990.
OKLAHOMA CITY – For just the 14th time in the NCAA Championships 84-year history, a true freshman has been crowned national champion. Mizzou's two-seed J'den Cox stormed to the top of a 197-pound weight class that featured three seniors in the final four, engraving his name in Mizzou lore with a 2-1 decision over No. 1 Nick Heflin Saturdaynight. Cox becomes Mizzou's youngest national champion, joining Tiger greats Ben Askren, Max Askren and Mark Ellis. Cox's title is the fifth in program history.
"It feels amazing. I've worked so hard," said Missouri's fifth national champion. "I was telling all these guys, losing here means I've got to push the restart button again. I didn't feel like doing that at all in this tournament, and came through all the training. Everything I've gone through this summer, morning practices, two-a-days, everything, it's come down to this, winning the gold."
Cox broke the scoreless tie in thesecond period of the 197-final, escaping in four seconds after starting theperiod in the down position. Heflin escaped to tie in the third, but Cox continued to shoot and Heflin was hit for his second stall call, giving Cox the 2-1 lead and eventually the title.
"I didn't just imagine it. I dreamed it. This is a dream of mine. It's something I put all of my heart and work to and I always tell people there's no point — I see it this way: There's no point to do something if you're not going to push yourself to try to do it to the best of your ability."
"I'm so happy for him," said Head Coach Brian Smith. "He's an amazing athlete and such a student of the sport. He's was so confident and focused coming in after high school and then he lost (to Wellington). He is always focused but after that it was this incrediblyintense focus, and he just kept getting better and better and better. He's an amazing kid."
In five matches in Oklahoma City, Cox never gave up a takedown. A 10-4 decision over Mario Gonzalez (Illinois) and a 19-6 major over No. 15 Braden Atwood (Purdue) on Thursday sent Cox to Friday's quarterfinal round, where he would become the youngest Tiger to claim All-American honors with a 5-1 decision over Duke's Conner Hartmann. The first-year Tiger scored three points in the second period of the semifinal bout versus No. 14 Chris Penny (VT) and added a point for ride time to set up Saturday's title match.
The Mizzou champion's .950 winning percentage (38-2) in 2013-14 is the best mark posted by a freshman in Mizzou Wrestling history, surpassing Ben Askren's 32-5 freshman campaign. It also sits as the third-best winning percentage in program history, with Askren boasting two perfect seasons (2006, 2007).
Cox opened up 2013-14 with 10 straight victories and two open tournament titles at 197 pounds at the Daktronics Open and Joe Parisi Open. Cox's first loss since his freshman year of high school came in his first career home dual at Mizzou to Ohio's No. 15 Phil Wellington, a 6-4 decision on December 6. Cox would become champion in four of five tournaments throughout his true freshman campaign, with his lone setback coming at the Southern Scuffle where he finished third. Cox fell to No. 2 Kyven Gadson (Iowa State) in sudden victory of the semifinals for his second loss of theseason. Despite his third place finish, he picked up two signature wins over No. 3 Morgan McIntosh (Penn State) on day two of the Scuffle including an 8-2 trumping of the Nittany Lion in the third place match, catapulting him up the 197-pound rankings.
The Columbia, Mo.-native finished 11-1 in dual play, starting each of Mizzou's 12 duals. Down in Norman, Okla., Cox jumped to the No. 2-spot in the country after a 6-1 disposal of No. 3 Travis Rutt (Oklahoma). At the MAC Championships, Cox cruised to the finals with a21-6 tech fall over Jackson Lewis (Central Michigan) and an 11-1 major decision over NIU's Shawn Scott to set up a rematch with Ohio's Wellington. Cox would avenge his first collegiate loss by way of a 10-1 major. His championship performance earned him the MAC Championship's 'Most Outstanding Wrestler.'
Mizzou junior-captain Drake Houdashelt won a 3-0 decision over Mitchell Minotti (Lehigh) to take fifth place at 149 pounds at the 2014 National Championships Saturday morning. Houdashelt's podium finish gives him All-American status for the second time in as many years. He took sixth in last year's NCAAs in Des Moines, Iowa.
With Brian Smith at the helm, 20 All-Americans have now come through Columbia, Mo., claiming 33 total medals. Cox's and Houdashelt's 2014 finishes make it 55 Mizzou All-Americans at the NCAA Championships since the programs beginning in 1923. Smith's squads have had 13 consecutive winning seasons after posting a 10-2 dual record in 2013-14. The program also picked up their third-consecutive conference title in comeback fashion earlier this month, edging out top-10 program UNI with 118.5 team points.
The Tigers finished the 2014 NCAAs in 14th place with 40.5 points. The Penn State Nittany Lions won their fourth-consecutive team title with 109.5 team points.
RESULTS
133 – Matt Manley
Champ. Round 1: Matt Manley decision over Mack McGuire (KentState) in sudden victory 2, 7-5.
Champ. Round 2: No. 1 Joe Colon (UNI) decision over Matt Manley, 5-1.
Cons. Round 2: Mark Grey (Cornell) decision over Matt Manley, 3-0.
141 – Lavion Mayes
Champ. Round 1: No. 2 Logan Stieber (Ohio State) fall over Lavion Mayes at 2:48.
Cons. Round 1: Lavion Mayes major decision over Avery Garner(Utah Valley), 15-5.
Cons. Round 2: Lavion Mayes decision over Laike Gardner (Lehigh), 9-5.
Cons. Round 3: Luke Vaith (Hofstra) decision over Lavion Mayes, 6-2.
149 – No. 1 Drake Houdashelt – ALL-AMERICAN (FIFTH)
Champ. Round 1: No. 1 Drake Houdashelt major decision over Alex Kocer (SDSU), 12-3.
Champ. Round 2: No. 1 Drake Houdashelt major decision over No. 16 Alex Richardson (ODU), 13-0.
Quarterfinals: No. 1 Drake Houdashelt decision over No. 9 Eric Grajales (Michigan), 3-1.
Semifinals: No. 5 Jason Tsirtsis (NW) decision over No. 1 Drake Houdashelt in tie-breaker 1, 2-1.
Cons. Semifinal: No. 8 David Habat (Edin) decision over No. 1 Drake Houdashelt, 5-4.
Fifth Place Match: No. 1 Drake Houdashelt decision over No. 15 Mitchell Minotti, 3-0.
157 – No. 14 Joey Lavallee
Champ. Round 1: No. 14 Joey Lavallee decision over Immanuel Kerr-Brown (Duke), 10-3.
Champ. Round 2: No. 3 Alex Dieringer (OSU) fall over No. 14 Joey Lavallee at 1:38.
Cons. Round 2: No. 14 Joey Lavallee technical fall over Johnny Greisheimer (Edinboro), 22-7.
Cons. Round 3: No. 14 Joey Lavallee major decision over PaulHancock (Army), 14-4.
Cons. Round 4: No. 1 James Green (Neb) major decision over No. 14 Joey Lavallee, 12-2.
165 – Zach Toal
Champ. Round 1: No. 7 Pierce Harger (Northwestern) fall overZach Toal at 3:31.
Cons. Round 1: Austin Wilson (Nebraska) decision over Zach Toal, 6-1.
174 – Mikey England
Champ. Round 1: No. 2 Andrew Howe (Oklahoma) technical fall over Mikey England, 19-4 in 5:58.
Cons. Round 1: Shane Hughes (Columbia) fall over Mikey England at 3:00.
197 – No. 2 J'den Cox – ALL-AMERICAN (CHAMPION)
Champ. Round 1: No. 2 J'den Cox decision over Mario Gonzalez (Illinois), 10-4.
Champ. Round 2: No. 2 J'den Cox major decision over No. 15 Braden Atwood (Purdue), 19-6.
Quarterfinals: No. 2 J'den Cox decision over Conner Hartmann (Duke), 5-1.
Semifinals: No. 2 J'den Cox decision over No. 14 Chris Penny (VT), 4-1.
Finals: No. 2 J'den Cox decision over No. 1 Nick Heflin (Ohio State), 2-1.
HWT – Devin Mellon
Champ. Round 1: No. 9 Connor Medberry (Wisconsin) major decision over Devin Mellon, 11-2.
Cons. Round 1: Ty Walz (Virginia Tech) decision over Devin Mellon in sudden victory 1, 6-4.
Press release prepared by MuTigers Wrestling
Jones County Junior College Bobcats have claimed the 2013-14 NJCAA Division I Men's Basketball Championship. It's the first-ever national title for a Mississippi JUCO school in basketball.JCJC shocked the junior college sports world with an 87-77 victory over top-ranked and top-seeded Indian Hills Community College (Iowa) on Saturday night at the Hutchinson Sports Arena.
The championship is the first-ever in basketball for a Mississippi, MACJC or Region 23 school.The Bobcats, who end the year at 28-5 (a school record for wins in a season), entered the tournament as the 11th seed – and promptly became the lowest seeded school to win an NJCAA basketball title in any division.JCJC became the first ever school to win five games in five days to win the championship. The tournament format changed last year, expanding from 16 to 24 teams.
Liberty High School
2014 Elementary Basketball Camp
When: April 7th – April 10th
Where: Liberty HS Gym
Who: Boys and girls grades 3rd – 6th
Cost: $20 per player
For more information contact Coach Rob Brown:
Ph: 573-351-8406
Email: rbrown@liberty.mvbt.k12.mo.us
SPRINGFIELD, Mo. – The Missouri State softball team (18-9, 1-2) rallied from a 4-0 deficit and had runners on base in every inning, but ultimately fell, 5-4, at the hands of visiting Bradley (11-17, 2-1) in the rubber game at Killian Stadium on Thursday afternoon.
"I liked how we battled today," said head coach Holly Hesse. "We showed a lot of heart coming back from a four-run deficit. We were resilient and had a lot of chances to win this game."
Freshman Elena Gambill went 2-for-4 in the game for Missouri State. She drove in a run and scored the tying run in the fourth.
Senior Ashley Brentz reached base all four plate appearances. She drew two walks to increase her team-leading total to 15 on the season. She also drove in a run and scored the first run as MSU rallied back.
Bethany Sullinger drove in two runs on a hit with two outs. She continued the see-saw battle for the league lead by passing teammate Heather Duckworth with 16 two-out RBI on the year.
Brentz led off the game for MSU in the bottom of the first with her first walk of the day, but the Bears were unable to take the lead.
Stacia Boeckstiegel roped a two-out double to right-center in the second. She remained there as the inning concluded.
Bradley took the lead in the third inning. Five Braves' hits produced four runs putting Missouri State in a hole.
The Bears battled back in the bottom of the inning. Brentz started a two-out rally by reaching on a fielding error by the Bradley pitcher. The inning continued with a bunt single by Kerri Cunningham. Chelsea Jones drew a walk to load the bases for Sullinger. She kept the inning going with a single down the right field line slicing the deficit in half.
In the bottom of the fourth, MSU continued the comeback. Boeckstiegel began the inning with a walk. Two batters later, she motored around to score on a double to the right-center field wall by Gambill. A sacrifice bunt by Ali Trickey moved Gambill to third. Brentz came through with a two-out infield single to send Gambill home with the tying run.Boeckstiegel walked for the second-straight inning in the fifth. But with two outs, she was again stranded on base.
The Braves turned an MSU error in the top of the sixth into a run. In the bottom of the inning, Gambill led off with a single to right-center. She advanced into scoring position on another sac bunt by Trickey. Brentz walked, but Bradley was able to avert the Bears' threat.
In the bottom of the seventh, the Bears had another chance to tie or win the game. Sullinger was hit by a pitch to start the inning. After a wild pitch moved her into scoring position, Duckworth walked. Two batters later,Rebecca McPherson was hit by a pitch to load the bases. The Bradley relief pitcher clamped down and stranded all three runners to turn the Bears away.
Chelsea Jones started in the circle for Missouri State. She struck out two and did not allow a walk in three innings of work. Jessie Van Es pitched 2.1 innings and allowed just two hits, but was the tough-luck recipient of the loss on an unearned run. Erin Struemph pitched the final 1.2 innings and allowed just an infield single.
The Bears are scheduled to play new league foe Loyola this weekend. Stay tuned to MissouriStateBears.com for schedule updates. Missouri State returns to Killian Stadium next Wednesday (March 26) at 5:00 p.m. versus Tulsa.
#MSUBears Missouri State Softball