Archive for December, 2013
SPRINGFIELD –
Missouri State (9-2) got 18 points from Marcus Marshall and a career-high 15 rebounds from Keith Pickens to turn back visiting Alabama A&M here Saturday, 68-47.
 Austin Ruder, who was 4-of-7 from 3-point range, also contributed to MSU's seventh straight home victory by adding 12 points.
Alabama A&M (3-6) was led by Brandon Ellis with 8 points and Justin Banks with 8 rebounds.
MSU used solid free throw shooting and rebounding in the second half to put the game out of reach. The Bears finished 25-of-31 (.806) at the foul line and owned a 47-34 rebounding advantage.
After the Bulldogs trimmed a 26-21 halftime deficit to 31-27 on a trey by Nicolas West at the 16:40 mark of the second half, Missouri State went on a 16-5 run over the next five-and-a-half minutes to push ahead 47-32. Pickens ended the run with five unanswered points with Ruder and Marshall combining for three 3-pointers in the offensive outburst.
  Pickens' layup at the 11:12 mark, however, would be the Bears' last field goal for nearly 10 minutes as MSU used an aggressive approach to get to the free throw line 14 times in that span, making 13, and securing a 60-39 advantage with just over two minutes to play.
Bruce Marshall ended MSU's field goal drought with 1:38 left in the game and later knocked down a 3-pointer from the left corner that gave the Bears their biggest lead of the night, 66-43, with 40 seconds remaining.
Missouri State dominated the boards in the second half, doubling the Bulldogs on the glass, 26-13, over the final 20 minutes. Pickens accounted for 14 of his caroms in the second half and finished with the most rebounds by a Bear since Dale Lamberth pulled down 16 against Bradley on Jan. 2, 2008.
Despite shooting an even 9-for-18 from the field in the second half, the Bears finished 17-of-50 (.340) overall after a slow start. MSU was 9-of-20 (.450) beyond the arc and matched a season-high with 14 turnovers on the night.
Also contributing for the Bears was Tyler McCullough who blocked 3 shots, while Marcus Marshall tied a game high with 3 assists for the home club.  Ruder also helped the Bears on the glass with 6 rebounds as MSU held AAMU to just two second-chance points.
The Bulldogs finished 15-of-56 (.268) from the field, 6-of-26 (.231) from long range and 11-of-17 (.647) at the line with 11 turnovers.
In the first half, both teams used significant runs to account for most of their scoring. Missouri State stormed out of the gates to take a 12-2 lead less than 8 minutes into the contest. After MSU pushed ahead 14-5, AAMU reeled off 7 unanswered points to pull within 14-12 at the 7:58 mark before a 10-0 outburst by the Bears gave the home squad a 24-12 advantage with just under five minutes to go.  The Bulldogs ended the half on a 9-2 run to pull within 26-21 at the break with Jeremy Crutcher scoring the last four points of the period for AAMU.
Missouri State will host Southeast Missouri State (7-4), in the 143rd meeting between the clubs, in a 2:05 p.m., affair on Sunday, Jan. 29. Tickets are available at MissouriStateBears.com/tickets or during office hours at the MSU Athletics Box Office at JQH Arena, (417) 836-7678.  The box office will be open Dec. 26-30, from 10 a.m. to 5 p.m., during the holiday break.
WEST PLAINS, Mo. – The Missouri State University-West Plains Grizzly Basketball team will go into the holiday break with an 11-6 record after defeating Highland (Kan.) Community College 73-70 Tuesday, Dec. 17, in the Joe Paul Evans Arena at the West Plains Civic Center.
"Playing a game after finals week is tough, and the last game before Christmas break is equally as tough.  We had to deal with both factors in this game," Grizzly Basketball Head Coach Yancey Walker said.
"We won this game at the free throw line and from the three," he added, pointing out the Grizzlies hit 19 of 26 attempts from the free throw line and eight of 26 shots from 3-point range for the night.  "We did a better job of attacking the basket in the second half.  In the first half, we were settling for too many jumpers.
"We also have to do a better job in the second half," Walker continued.  "We are just not finishing games off the way that we should."
Overall, the Grizzlies shot 41.1 percent from the field, hitting 23 of 56 attempts.  They were 30.9 percent from 3-point range and 73.1 percent from the charity stripe.
Four Grizzlies scored in double figures.  Sophomore guard Devaugntah Williams led the way with 17 points, followed by freshman forward Justin Jamison with 13 and sophomore guard Arroyo Edwards and freshman guard Jeremiah Jackson each with 12.
The Grizzlies also had 37 rebounds, 13 assists, 13 turnovers, four steals and three blocks.  Freshman forward Lukasz Bonarek led the team in rebounding with 15 grabs, five of which came off the offensive glass.
Highland hit 27 of 63 shots from the field for 42.9 percent, six of 18 attempts from 3-point range for 33.3 percent and 10 of 17 shots from the free throw line for 58.8 percent.  Leading scorers were Martel Collins with 22 points, Marc Ellis 12 points and Dominique Davis 11 points.  Highland also recorded 36 rebounds, 19 assists, 12 turnovers and six steals.
"We want to thank our game sponsor, The Shoe Factory Lofts, for helping us out as much as they do," Walker said.
The Grizzlies will return to the court Jan. 3 and 4, 2014, in their Grizzly New Year's Classic.  Joining them will be Columbia (Tenn.) State Community College, ranked 10th in this week's National Junior College Athletic Association's (NJCAA) Division I men's basketball poll; Iowa Western Community College of Council Bluffs, ranked 13th in this week's poll; and Southeast Texas Prep of Humble.
Games are scheduled for 5 and 7 p.m. each day, with the Grizzlies playing in the 7 p.m. contests.  They will face Columbia State Jan. 3 and Iowa Western Jan. 4.
For more information about the Grizzly Basketball team, including complete statistics from the games, visit wp.missouristate.edu/grizzly/bb/.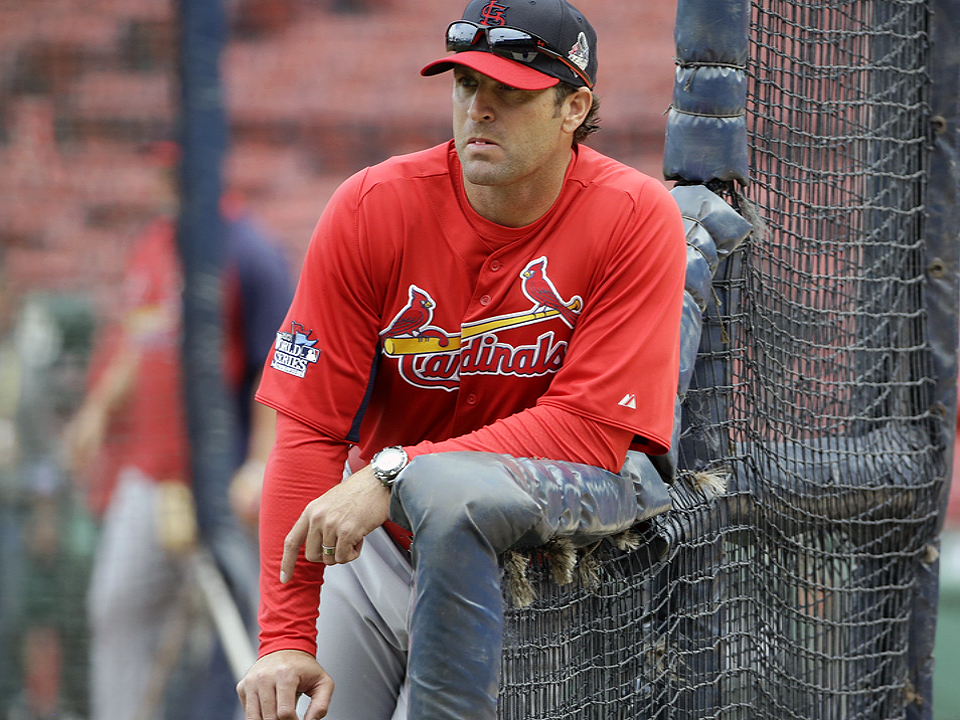 It's about the tradition of winning and the expectation to continue doing so, according to manager Mike Matheny.
It's about creating a culture in which high character and fundamental play are emphasized at every level. It's also about stability, about sustaining a model organization by drafting well and running a strong player development system.
It's been described as an organizational philosophy, a franchise tradition and an evolving blueprint for how to play the game. It's become something of a catch-all term, really, for the way they go about their business in St. Louis.
It is "The Cardinal Way," and it was proven successful once again in 2013.
The phrase was often mentioned as the Cardinals marched through the postseason and into another World Series, though the definition remained somewhat nebulous. It was used to explain St. Louis' success in scouting, developing and promoting Major League-ready players from the Minors, and it was applied to the day-to-day, often pitch-to-pitch focus and respect with which the Cardinals approached each game.
"Cliffs Notes version is, this is a way of thinking that we have in St. Louis and in our clubhouse and throughout our organization — an expectation of winning, an expectation of professionalism that comes with that winning, and doing things the right way," starter Adam Wainwright said before the World Series. "And that's been taught and bred over the years from guys like Red Schoendienst, like Stan Musial, Bob Gibson, Lou Brock, Ozzie Smith. All of these great Hall of Famers that you've grown to love, they're still in our clubhouse hanging out, with the great Stan passing this offseason.
"We are very blessed in St. Louis to have those guys in the red jackets around, and we still feel their presence there. We still feel their lessons."
After winning the World Series in 2011, the Cardinals saw manager Tony La Russa retire and Albert Pujols leave for a massive contract in Anaheim. They barely missed a step in '12, making the playoffs as a Wild Card and then advancing to the National League Championship Series.
They lost Kyle Lohse to free agency the following offseason, then they lost starter Chris Carpenter, closer Jason Motte and shortstop Rafael Furcal to injuries early on in 2013.
Once again, no big deal. Not for St. Louis, anyway.
The Cardinals relied on the astonishing depth of their farm system this year more than ever, finishing atop the highly competitive NL Central with a 97-65 record. Twenty rookies contributed in some way to the club's NL championship season. And outfielder Oscar Taveras, one of the top prospects in baseball, is still biding his time in the Minors.
Of the 25 players on the Cardinals' World Series roster, 20 reached the Majors through their own farm system. Of those 20, 17 were drafted. Wainwright and David Freese were acquired as Minor Leaguers, and Carlos Martinez was an international signee.
Those young players didn't just come up to play bit parts, either. Consider rookie Michael Wacha, who made two starts in the World Series, and setup man Martinez and flame-throwing closer Trevor Rosenthal. When Allen Craig went down, Matt Adams was ready to be the starting first baseman.Matt Carpenter transformed from a backup corner infielder in 2012 to the team's everyday second baseman and leadoff hitter in '13.
Even Matheny was unproven and untested as a manager before taking the job in '12, but he has shown why the club considered him an ideal candidate to practice and teach "The Cardinal Way."
That vision starts at the top, as it was a product of chairman and CEO Bill DeWitt Jr.'s thinking. It's executed through general manager John Mozeliak and his front-office staff, passed on by coaches and instructors at the Minor League level, then eventually by veterans on the Major League club. And it's carried out on the field by Matheny and his coaches and players.
"We hold ourselves to such a high level of expectation of how we play — not just wins and losses, but how you go about your business. And I think it's been something that's just been passed down," Matheny said in October. "It was something, when I came here as a player, that was very clear, and it was obvious and something that I feel is a responsibility to continue. And we have a group of guys that buy into it, and I think they've done a nice job of carrying that torch."
The result has been two World Series appearances in the last three seasons and four in the last 10 years. They've reached the postseason in 11 of the last 18 years, and they've won two World Series since 2006. They fell one game short of reaching the Fall Classic in '12 and two wins short of a championship this past October.
It may be difficult to nail down one specific definition for "The Cardinal Way," but it's impossible to deny its effectiveness, especially in 2013.
Adam Berry is a reporter for MLB.com. Follow him on Twitter at @adamdberry. This story was not subject to the approval of Major League Baseball or its clubs.
By Adam Berry / MLB.com
SPRINGFIELD — Missouri State (3-6) held one of nation's top statistical offenses in check Thursday, turning 26 Missouri (10-2) turnovers into 32 points while swiping a season-high 17 steals from the Tigers and limiting the nation's third-ranked 3-point shooting team to just 6-for-19 from beyond the arc in a 67-53 win at JQH Arena.
The Lady Bears led wire-to-wire, holding the Tigers scoreless on their first six possessions and leading 8-0 at the first media timeout thanks to six points fromTyonna Snow. Missouri State extended the lead to 11-2 on a NiJay Gaines 3-pointer at the 14:28 mark, and went up 19-6 with 9:34 to play after Desiree Phillipsburied a trey and Kenzie Williams hit a free throw.
MSU continued to hit from long range when Bry Snow hit her first triple of the season followed by a free throw by her younger sister for a 27-12 advantage with 6:15 left in the half.
Missouri State kept the lead in double figures for the remainder of the half, going into the break up 40-25 while limiting the Tigers to a single 3-pointer and holding a 17-0 edge in points off turnovers thanks to 10 MU giveaways.
Missouri twice cut its deficit to 11 points in the second half before Tyonna Snow's steal and layup was followed 33 seconds later by Lexi Hughes' second 3-pointer of the game to give the Lady Bears their largest lead of the contest at 51-35 with 13:18 remaining.
Williams extended the MSU lead with another steal and layup for 53-35 with 11:46 to go, but the Lady Bears managed just two points over the next 4:46 as the Tigers closed the deficit to single digits for the first time in more than 20 minutes with a jumper at the 7:14 mark for a 55-46 score.
Missouri's run continued with a pair of layups to a 56-50 margin with 5:11 to play before the Snow sisters connected on back-to-back MSU baskets to push it back to double figures at 60-50 with 3:05 to go.
The Tigers hit a 3-pointer 30 seconds later to make it 60-53, but the Lady Bears hit seven free throws and forced seven empty possessions by Missouri over the game's final 2:35 to close out the win.
The Lady Bears forced 16 turnovers and grabbed 10 steals in the second half alone, with Tyonna Snowrecording six more steals to give her 19 in her last three games. The sophomore added a team-high 14 points, Williams and Bry Snow had 11 each, while NiJay Gaines netted a season-high eight points.
Missouri State shot 39.3 percent compared to 38.5 percent for Missouri, and held a 10-point advantage at the foul line. Hillary Chvatal matched a season high with seven rebounds, while the Tigers led 40-33 in that category.
The Lady Bears host Southeast Missouri State (4-8) on Saturday at 2:05 p.m.
(Salem, MO) – The West Plains Zizzers traveled to Salem for a make-up game against the Tigers last night and got back into the win column.
Scott Williamson has the full report: 
Audio clip: Adobe Flash Player (version 9 or above) is required to play this audio clip. Download the latest version here. You also need to have JavaScript enabled in your browser.
Once again the final scores were West Plains Zizzers 63 and Salem Tigers 49.
The Lady Zizzers host Lindbergh tonight at 7:30PM. You can listen to the game on KKDY 102.5
On Thursday night the Lady Eagles played against the Seymour Tigers winning with a final score of 59 to 48.
Here is Gary Lee with details: 
Audio clip: Adobe Flash Player (version 9 or above) is required to play this audio clip. Download the latest version here. You also need to have JavaScript enabled in your browser.
Once again it was the Lady Eagles over Seymour Tigers 59 to 48.
The Missouri State Lady Bears host a pair of in-state rivals this week, beginning Thursday at 7:05 p.m. when Mizzou comes to Springfield for the first time in nearly a decade.
Missouri brings one of the nation's top shooting teams to JQH Arena as the Tigers rank among the top 25 in four offensive categories.
Thursday's game will be MSU's last in a stretch of eight consecutive contests against teams that played in the postseason a year ago.
MSU wraps up its homestand Saturday afternoon at 2:05 p.m. against SEMO (4-8), which represents the Lady Bears' first opponent of the season that did not win at least half of its games in 2012-13.
Missouri State concludes non-conference play Dec. 29 at North Texas and begins the Missouri Valley Conference season Jan. 5 at home against Wichita State.
The Tigers will head south on Thursday to face in-state foe Missouri State in a 7:05 p.m. contest. The game will air on Mediacom channels 22 and 722 throughout the state and also on My ZOU-TV in Mid-Missouri. The Tigers and the Lady Bears last met in 2012 at Mizzou Arena with the Tigers earning a 91-77 victory. Missouri owns a 17-6 record against Missouri State in program history.
The Lady Bears are 2-6 on the season, with victories coming over Arkansas-Little Rock and Lamar. The team is led by Kenzie Williams and Tyonna Snow, who are both averaging over 10 points per game. Bry Snow is also among team leaders as she leads the team averaging 5.4 rebounds per game. WIlliams is a two-time MVC Player of the Week this season, with the most recent honor coming on Monday, Dec. 16.
Southeast Missouri State is 4-8 overall with wins against Alabama A&M, UMKC, Southern Illinois and Illinois-Springfield.
The Redhawks have five players averaging at least 7.0 points per game, led by Kara Wright at 11.1 per contest. Patricia Mack grabs 8.6 rebounds per game as SEMO holds a plus-2.0 margin.
As a team, SEMO averages 60.5 points and allows 68.9 while shooting 36.1 percent overall, 30 percent on 3-pointers and 65 percent from the foul line.
Missouri (Mizzou Tigers) is 10-1 on the season with its lone loss coming at Miami (Fla.). The Tigers already own victories over Evansville and Bradley of the MVC.
Bri Kulas is MU's leading scoring at 18.2 points per game, while Morgan Eye averages 11.0 points and has buried 35 3-pointers.
The Tigers average 78.0 points and allow 59.8 while shooting 43.4 percent overall, 38.8 percent from beyond the arc and 78.9 percent from the charity stripe.
Before Monday's game, Missouri ranked third nationally in 3-pointers per game and free throw percentage, 23rd in scoring margin and 24th in 3-point percentage.
ST. LOUIS – St. Louis Blues President of Hockey Operations and General Manager Doug Armstrong announced Wednesday the club has agreed to terms with forward Alexander Steen on a three-year contract extension worth $17.4 million.
Steen, 29, is having a career year, posting 36 points (22 goals) through 33 games this season.
The 6-foot, 212-pound forward tallied 20 goals in his first 24 games, becoming the fastest player in franchise history to reach that plateau since Brett Hull in 1990-91. In addition, Steen scored in each of the club's first 10 wins, becoming the first player in NHL history to do so since Eric Lindros in 1993-94.
From Oct. 17 to Nov. 16, Steen became the first Blue since Pierre Turgeon (1999-2000) to record at least a point in 13 straight games, a stretch that also stands as the second longest by any player this season.
Overall this season, the Winnipeg, Manitoba native ranks high in most major offensive categories, including ninth in points, second in goals, 15th in power-play goals (5), fourth in game-winning goals (5), 17th in shots (112) and sixth in shooting percentage (19.6%).
Additionally, Steen is one of the NHL's most well-rounded players, as he joins Anze Kopitar (LAK) as the only forwards that average over 15 minutes of even strength time, two minutes of shorthanded time and three minutes of power play time per game.
Currently in his ninth NHL season and sixth as a Blue, Steen has totaled 339 points including 145 goals and 194 assists to go along with 246 penalty minutes in 570 career games.
A former first round pick of Toronto in 2002, Steen was originally acquired by the Blues from the Maple Leafs (along with Carlo Colaiacovo) in exchange for Lee Stempniak on Nov. 24, 2008
When attempting to summarize his six-year NFL journey, Chris Long speaks as someone who would likely assign only 'incomplete' as a grade.
The assessment would speak nothing of his individual contributions since being chosen with the second overall pick in the 2008 draft. It would overlook the fact that Long has fulfilled many of the hopes the Rams held for him when they installed him as a starting defensive end following that high draft pick. Serving as a mainstay along the Rams' defensive front for the last six years, Long has led the Rams with 48.5 sacks, which also ranks 14th in the NFL in that time span. If he reaches 10 or more sacks this year, Long would join Kevin Carter and Leonard Little as the only St. Louis Rams to tally double-digit sacks in three consecutive seasons.
The grade would only be attributed to the considerable promise that the future appears to hold for Long and his teammates, with the objective being a consistently contending team in St. Louis for the first time in a decade.
The Mainstay:
If there is an ideal player to personify the blue-collar, physical style of play that has been the trademark of the Jeff Fisher era in St. Louis, it would be hard to identify anyone more fitting than Long. During his first preseason as the Rams' head coach, Fisher likened Long to veteran end Kyle Vanden Bosch, who accumulated 38.5 sacks in five seasons under Fisher with the Tennessee Titans. Similar to Vanden Bosch, Long has provided not only a high-motor defensive end who rarely leaves the field during a game, but has also displayed the durability to maintain that presence each week.
Few defensive players have provided both the production and week-to-week presence as Long has since 2008. Since that rookie season, Long has not missed a single game, a feat that only Minnesota's Jared Allen and Chicago's Julius Peppers can match among NFL defensive ends.
As for his rate of production, while his numbers through three-quarters of the 2013 season may lag behind what he has become accustomed to in recent years, his presence has contributed to the success of the entire line.
Third-year defensive end Robert Quinn is off to a career year, leading the NFC with 15 sacks. Often times, the unsung contributor to Quinn's success has been Long, as the veteran end's presence has limited teams' abilities to double-team the Rams' premier pass-rusher.
"What happens is he forces that thing to (DE) Robert (Quinn) sometimes because we have two guys on the outside that really do a good job of restricting the quarterback from running the ball and collapsing the pocket," defensive coordinator Tim Walton said. "The one that gets the one-on-one usually wins. He's been a great asset to us, a great combo."
True to Walton's assessment, Long and Quinn entered this week having combined for 21.5 sacks on the season, third-most by any pass-rushing duo in the NFL, just a half-sack behind Kansas City's Tamba Hali and Justin Houston. As a unit, the Rams' defensive line has accounted for 38 of the team's 41 sacks entering Week 14, with Long and Quinn serving as the leaders of a deep and talented group.
"I'm sure at times, it's a decision they have to make," Long said. "Who do they want to take away? Do they want to slide to Will (Hayes) who is a terrific inside rusher. Do they want to chip me? Do they want to chip Rob? If Eugene (Sims) is out there, he rushes well inside. It's really a group effort getting to the quarterback. A lot of people don't realize how much of a team effort it is, but when you have the best pass-rusher in football on the other side of you—and I do—it's a pretty nice perk."
The Long Road Back
Long doesn't shy away from expressing the weight of the collective frustration pent up over five losing seasons in the NFL. There is little left to the imagination when Long expounds upon the beginning of an NFL career that showed team success would come slower than any of his teammates envisioned.
There was the 7-9 2010 season, a year that left the Rams a single win from postseason play, only to turn in a 2-14 season in an injury-plagued 2011. The team struggles wore on Long, currently the longest-tenured Ram.
"For a while there, it was tough," Long said. "That being said, being better now and knowing what we have here, losses are more disappointing now because we know what we're capable of. It was tougher being up and down earlier in the season, and hopefully we have this thing moving in the right direction."
In the first year of Fisher's regime, the Rams improved to 7-8-1, the team's best regular-season finish since 2006. Similar to the days following the 2010 season, last year's finish produced a considerable amount of optimism for the future. However, Long sees far more staying power in the latest resurgence for the only NFL franchise he's known.
"We have the faith that it's going to get better," Long said. We had the faith before, but there was less evidence as to why we were going to succeed. We've exhibited that we can play with the best of the best against a tough schedule and we're a physical football team. That's the great part. To be on a team that's physical is awesome, and I never take that for granted. That's something that if it's a fistfight of a game, we can come out on top."
For Long, the defining moments in becoming sold on Fisher and the upward direction of the Rams organization came during two weekends last fall. In a pair of meetings with the San Francisco 49ers, the Rams emerged with a win and a tie, faring better against the eventual NFC champions than any other team during the regular season.
"We're a different team completely—talent-wise, scheme-wise, belief," Long said. "The belief thing is huge. It's built through success, and we're trying to build that success. We feel really good about ourselves right now, but we have a long way to go. We have the ability to take those next steps, but we have to take those steps. When you look at San Francisco, they went to the Super Bowl last year. We went toe-to-toe with them and, quite frankly, beat them up a bit. As a D-lineman, I hadn't been on a team before that had been able to impose their will on another team that was really physical and well-respected. Seeing how we could compete in the division and with some of the things we've done this year, they're just eye-openers. It just goes to show you if we can be consistent, how good we can be."
Despite his seniority status among what began the year as the league's youngest NFL team, Long prefers to view himself as a cog in the proverbial wheel, identifying leadership within the defensive unit as a committee effort.
"I'm just a part of that puzzle with leadership here," Long said.  "We've got a lot of good leaders. In the D-line room, we're blessed to just have guys who lead by example. William Hayes is a guy who just works his tail off. He's a leader, and I like to just set an example for the younger guys. I think accountability and dependability are key. It's not always about what you say to them."
While he may be measured in how he communicates his leadership verbally, his efforts on the practice field and in games have been most influential. For young, emerging players like Quinn, the example placed on the field on a daily basis by Long, as well as other holdovers from lean seasons in St. Louis has proven beneficial.
"With him and James, those guys have been through the struggles," Quinn said. "They know the potential that we have as well as other guys. They're just ready for a change, and they know we can only control one week at a time, but also look at the big picture. "I think it makes him hungrier to perform better and help this team win. The guys on this team who have gone through the struggles and don't want to go through that again, they just stay focused and get better each and every day."
While the signs surrounding this Rams team have yielded much excitement and optimism in the present, Long knows the potential of the only franchise he's ever known remains far from fulfilled. The floor has been sufficiently raised in St. Louis, and Long has played a primary role in its most recent advancement.
"It's gratifying to be on the ascent right now," Long said. "Now when you show up to work, you know you have a chance to win. When you have a chance to compete, and if you execute well and play to your potential, we can beat a lot of people."

Jonathan Webb
Website Intern
SPRINGFIELD, Mo. – Missouri State junior Caleb Schaffitzel picked up first-team All-America laurels from both The Sports Network and the Walter Camp Football Foundation Wednesday (Dec. 18). The matching honors for Schaffitzel mark the second-straight year the Fair Grove, Mo., product has been tabbed for TSN's FCS All-America squad, while his selection to the Walter Camp Football Championship Subdivision All-America team is the first for a Bear since 2010.
Schaffitzel was one of just 25 FCS players named to the prestigious Walter Camp All-America team and, along with three-time North Dakota State All-American Marcus Williams, one of only two Missouri Valley Football Conference players tabbed for the organization's top defensive squad. The Bears' leading tackler was also among 14 Valley football players named to one of The Sports Network's All-America teams, matching the Big Sky Conference for the most selections from any FCS league.
In addition to being named the 2012 FCS Co-Defensive Back of the Year by the College Football Performance Awards, Schaffitzel earned third-team All-America honors from both the Associated Press and The Sports Network as a sophomore. A two-time CoSIDA Academic All-America selection as well, Schaffitzel becomes the seventh Bear to earn All-America recognition in at least two separate campaigns and the first since Clay Harbor was named an All-American in each of his final three years at MSU.
Schaffitzel joins Cornelius Perry (1963-65), Tom Mullen (1972-73), Preston Estes (1985, 1987), Bill Walter (1990-91), Adrion Smith (1991, 1993) and Clay Harbor (2007-09) as the only players in MSU program history to achieve All-America status in multiple seasons.
One of just two juniors named to this year's Walter Camp Foundation All-America defensive unit, Schaffitzel was an All-MVFC first-team pick for the second season in a row after pacing one of the strongest defensive units in the conference with a career-best 110 total tackles this fall. Additonally, he was a finalist for the 2013 Buck Buchanan Award honoring the top defensive player in the Division I FCS ranks, finishing 15th overall in the voting.
MSU's strong safety led the MVFC in interceptions (0.50) and rated second among all league players in tackles per game (9.6) and passes defended per game (1.25) in league play, while recording his second consecutive season with over 100 total stops. Overall, he currently ranks second in the MVFC in both tackles (9.16) and interceptions (0.33), good for 44th and 31st nationally, respectively.