(West Plains) – The West Plains High School Boys Open Golf at the West Plains Country Club has been canceled.
The West Plains Middle School track meet at Mountain View has been canceled.
The West Plains High School Baseball game against Dexter has been postponed.
The West Plains High School Varsity Girls Soccer will play at home at 5:00pm.
The Willow Springs 6th grade volleyball tournament scheduled for Saturday March 23(tomorrow), has been cancelled and will not be rescheduled.
Every spring, it's always something.
A pitcher twists his neck toweling off between innings. … Or hurts his elbow tossing out the trash. … Or strains his shoulder turning off his alarm clock.
It's always something. Something that definitely never happened to Cal Ripken, anyway.
But then came this spring, and holy schmoly. You don't need to be related to the surgeon general to know that in the annals of modern spring training medical mishaps, this has been an all-timer. Just to give you an idea:
A general manager (guess who?) jumped out of an airplane and did bad stuff to his fibula. And that wasn't even close to being the craziest injury of this nutty spring. Heck, it didn't even involve a tattoo or a scorpion.
So what was the most bizarre injury of them all (uh, so far)? Read on, as we present the Nine Strangest Injuries (or Mishaps) of Spring Training 2013:
EIGHTH RUNNER-UP: A funny thing happened to Casey Kotchman during the Marlins' first pop-up drill of the spring: He was chasing a pop fly and crashed into the pop-up machine. He survived the collision OK. But this little calamity was far from over.
He also knocked over the pop-up gizmo, tried to grab it before it hit the ground and wound up gashing two fingers on his right hand. Four stitches later, according to the Palm Beach Post, he had to sit at his locker and listen to his teammate, Greg Dobbs, ask him, jokingly:
"Why did you grab it? What was going through your brain? Dude, if the machine falls and breaks, the drill is over."
Kotchman's classic reply: "I was trying to be a gentleman to the machine and try not to throw it down on the ground."
Moral of the story: Gentlemen prefer fungo bats.
SEVENTH RUNNER-UP: Tigers shortstop Jhonny Peralta missed a game this spring due to, well, lunch. He gulped down a bowl of clam chowder, had an allergic reaction and was a late scratch.
In more ways than one.
SIXTH RUNNER-UP: Sleep is a big enough challenge in spring training. But every spring, somebody finds a way to take that to a whole new level. And this year's winner is Yankees reliever David Robertson. He went a week and a half between appearances this spring because of a sore shoulder.
Robertson
And how'd he hurt that shoulder? Not by throwing a baseball 96 miles an hour. By sleeping on it wrong. How else?
Last spring, you'll recall, Robertson sprained his foot — by carrying boxes down the stairs. So we believe he's set a franchise record for most spring injuries without setting foot in the ballpark. But we'll check that with the Elias Sports Bureau and get back to you.
FIFTH RUNNER-UP: This one actually wasn't funny. Two weeks ago, Cardinals relieverMarc Rzepczynski went out to play golf with three of his fellow pitchers and got himself into way more trouble than he ever could have imagined by driving into the rough on the first hole. So right after he unfurled his second swing of the day, a piece of dirt or debris apparently flew out of the rough and landed in his eye.
How messy a development was that? Yikes. It caused so much irritation in that eye that not only couldn't he pitch for a week and a half, he had to sleep standing up, on doctor's orders, to help the eye heal. But now that we know Rzepczynski will be all right, we'd like to offer four words of helpful advice for the next time he finds his Titleist in the rough:
Free drop. For life.
[+] Enlarge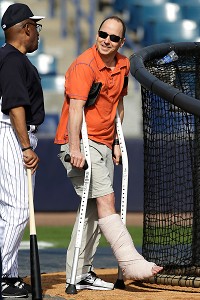 AP Photo/Kathy WillensIs there a more fearless general manager than Brian Cashman?
FOURTH RUNNER-UP: You can bet that back in the good old days of Bronx Bomber-hood, you never would have caught Gabe Paul, Lee MacPhail or Dan Topping Jr. jumping out of any airplanes. Not for charity. Not for fun. Not even for a very special presentation of Celebrity Yankee GM Apprentice.
But here's to Brian Cashman, whose fearlessness is a refreshing change of pace — about 99.99999999999999 percent of the time. Except for that one rare, unfortunate occasion this month when a skydiving adventure to benefit the Wounded Warriors Project landed him in a Florida operating room with a broken fibula and dislocated ankle.
We asked Cashman last week whether he'd ever jump out of a plane again. His reply: "Would I? Sure. I don't know if I will, but I would."
Whoah. Hold on. He'd really do that again after what happened to him this time?
"It's like Mariano [Rivera]," he quipped. "Don't want to go out that way."
THIRD RUNNER-UP: It's been a tough spring to be a general manager, even for the guys who managed to stay firmly planted on the ground. Ask Brewers GM Doug Melvin. He was finishing up dinner one night when his wife spotted a "bug" crawling across the floor. So Melvin volunteered to leap to the rescue. Big mistake.
He grabbed a tissue, attempted to apprehend that little bugger and, just as he was about to finish off this heroic deed, got stung in the finger by a creature known as an Arizona bark scorpion. Or, as they say around the scorpion batting cage, a Centruroides sculpturatus.
Almost immediately, Melvin realized numbness was spreading up his arm. So he did what any GM does when times get tough: He turned to Google. And once he read the word "lethal" in the description of the varmint that stung him, he headed straight for the emergency room. Where he spent the next several hours.
Asked by brewers.com's Adam McCalvy what he'd do the next time his wife sees a bug crawling along their floor, Melvin replied: "I'm going to have her kill it with her shoe."
SECOND RUNNER-UP: For four years, Texas shortstop Elvis Andrus had been looking into getting what the Dallas Morning News' Gerry Fraley described as an "elaborate tattoo" to honor his late father, Emilio.
Andrus
Everything about this is both beautiful and touching. Except for one minor detail:
In retrospect, flying in a tattoo artist — from Dallas — to apply this thing during spring training, which is not held in Dallas, might not have been Elvis' best idea of the millennium.
After spending nine hours, over two days, getting this tattoo etched on his arm, Andrus arrived at Rangers camp the next day reporting that his arm was basically "on fire." So he had to be shut down for a couple of days until the smoldering subsided.
Turned out this wasn't just Andrus' first career tattoo injury but also his first tattoo, period. Much to the chagrin of tattoo-injury historians, it's looking like there won't be a second.
"I'm done with this," he told his local tattoo-beat correspondents. "Too much pain."
FIRST RUNNER-UP: Bad things seem to be happening this spring when players named Peralta think to themselves: "Hmmm, I believe it's time for lunch."
We've already chronicled Jhonny Peralta's unfortunate encounter with those darned chowder demons. But he can't top the fate that befell Rays reliever Joel Peralta last month when he made the mistake of going out for Cuban sandwiches after a workout.
So he hopped in his flashy orange Camaro, arrived at the Cuban Taste restaurant in Port Charlotte, went to wriggle out of the car and … uh-oh … hurt his neck.
By the next day, he had what was described as an "extremely stiff neck." And the upshot was he couldn't throw for four days, had to withdraw from the World Baseball Classic and is still hearing about it from knuckleheads like us.
If you're wondering, though, Peralta fought through the pain, ate the sandwiches and gave this thumbs-up review to the Tampa Bay Times' Marc Topkin: "They were good." Be sure to look for that one on Yelp next time you're in Port Charlotte.
One final astute author's observation: When this injury first happened, who among us would have thought it wouldn't even rank as the top calamity of the spring a month and a half later? Still amazed by that. But you're about to find out why:
AND OUR WINNER IS …
It was an injury only Dave Gumpert, Bubbles Hargrave and John "Chewing Gum" O'Brien could love. It was also an injury so made to order for this high-brow piece of literature that the San Francisco Chronicle's trusty A's beat writer, Susan Slusser, tweeted it at us somewhere in the neighborhood of 11 seconds after she learned about it.
Taylor
A's outfielder Michael Taylor probably wasn't going to make the team anyway this spring. But he, um, chewed up whatever chance he had when he sliced up the little finger on his right hand by — we kid you not — tossing out his gum. During a game.
So how'd that happen? It was easier than you might think. Taylor grabbed the gum, went to throw it away and — oops! — hit his hand on the dugout ceiling light. Which resulted in an injury whose bad taste lingered a lot longer than a piece of Juicy Fruit.
He was out for 11 days, then came back to log a mere eight at-bats, whereupon the A's officially burst his bubble — by sending him to Sacramento.
Where, as his dentist undoubtedly warned him as a kid, he'll definitely have a lot to chew on.
Jayson Stark
Senior Writer, ESPN.com
     LOS ANGELES (AP) – Forty-somethings Jaromir Jagr and Ray Whitney scored 4:22 apart in the third period, lifting Dallas to a 2-0 victory over the Los Angeles Kings on Thursday night for the Stars' fourth straight win at Staples Center.
     The 41-year-old Jagr and 40-year-old Whitney scored in the same game for the second time this season. On Jan. 19 against Phoenix, they became the fourth pair of teammates age 40 or older to score in the same game since 1942-43.
     Kari Lehtonen made 40 saves to earn his first shutout of the season. He has won four of his last five appearances against the Kings.
By BETH HARRIS
 AP Sports Writer
     SCOTTSDALE, Ariz. (AP) – SCOTTSDALE, Ariz.  (AP) – Willin Rosario hit a two-run homer off Matt Cain, and the Colorado Rockies beat the San Francisco Giants 10-4 on Thursday night.
     Making his next-to-last start before he opens the season opens April 1 against the Dodgers in Los Angeles, Cain gave up four runs and seven hits, did not walk a batter and struck out eight.
     Rosario's second homer of the spring came after a one-out single by Todd Helton.
     Rockies left-hander Drew Pomeranz, making a bid for the No. 5 spot in the rotation, pitched five innings and gave up three runs and 10 hits. He walked two and struck out four.
LEXINGTON, Ky. – Dorian Green led all scorers with 26 points, and Colton Iverson led a massive rebounding margin for Colorado State as the eighth-seeded Rams posted an 84-72 win over No. 9 Missouri in NCAA Tournament Second Round action.
Green, who went scoreless with five turnovers in last year's second-round upset to Murray State, did much better this time as the Rams shot nearly 58 percent in the first half.
First-year Rams coach Larry Eustachy earned the victory with his fourth tournament team, but the road gets tougher as they advance to face top-seeded Louisville in Saturday's third-round Midwest Regional game at Rupp Arena.
Phil Pressey's 20 points led the Tigers (23-11).
Greg Smith and Jon Octeus each added 12 points while Wes Eikmeier added 11 for Colorado State (26-8), which was rarely threatened by Missouri.
Besides balanced offenses with at least four starters averaging in double figures, Colorado State and Missouri also have thrived on the glass. The Rams entered the game with a rebound margin of 12.1 per game, tops in the nation, with the Tigers third at 9.6.
Colton Iverson averaged 14.7 points per game to key Colorado State's return to the tournament along with Eustachy, who led Southern Mississippi here last year. The 6-foot-10 senior has been helped by Eikmeier (12.7 points) and Green (12.8 points) and Smith (11.1).
Missouri meanwhile featured one of the field's most balanced offenses, with Laurence Bowers(14.4 points) leading five starters averaging at least 11 points per game. Pressey has been one of the Tigers' most interesting stories, a talented guard who has tended to make mistakes in key moments.
That made for an entertaining first half that Colorado State led 47-38 by setting the offensive pace before falling into an end-to-end game more to Missouri's liking.
The Rams shot 15 of 26 (58 percent) in the first half and seemed primed to run away from the Tigers. Green was 3 for 3 from beyond the arc.
Missouri was 15 of 30 in the first 20 minutes with four 3-pointers.
Missouri closed to 49-45 early in the second half, but the Rams responded with a 17-4 surge for their biggest lead at 66-49 lead.
(Salem) – The track meet scheduled for Thursday in Salem has been cancelled due to the expected winter weather.
At this time, there is no word on a make-up date.
(West Plains) – Awards and accolades will abound at the 20th annual Missouri State University-West Plains Grizzly Sports Banquet, set for 6 p.m. Tuesday, April 9, at the West Plains Opera House on court square in downtown West Plains.
Individual and team awards will be presented for the Grizzly basketball and volleyball programs, and highlights of the basketball and volleyball teams during their past seasons will be recalled. Grizzly Cheer Team members also will be honored.
In addition, former Grizzly Volleyball standout Candace Saleaumua and Grizzly Basketball standout Terrell Everett will be inducted into the Grizzly Hall of Fame during the proceedings.
Tickets are $20 each. The banquet is being catered by Café 37 in West Plains. For more information, contact Missouri State-West Plains Dean of Student Services Dr. Herb Lunday at 417-255-7255 or e-mail HerbLunday@MissouriState.edu.
(Springfield) – Missouri State men's basketball coach Paul Lusk announced Tuesday (March 19) that redshirt freshman forward Drew Wilson intends to transfer at the conclusion of the current academic year. Lusk noted that Wilson would be released from his scholarship, pending satisfactory academic progress the remainder of the semester.
According to Lusk, Wilson made the MSU coaching staff aware of his decision Sunday.
Wilson played in 31 games for the Bears this winter, starting 18 times. He averaged 2.5 points and 3.4 rebounds per contest with a 57.4 percent field goal percentage. He was one of only two freshmen in the Missouri Valley Conference to tally over 100 rebounds this season. The Tulsa native also compiled two double-double efforts early in the campaign — Nov. 9 against Philander Smith (12 points, 11 rebounds) and Dec. 5 at Tulsa (11 points, 11 rebounds).
The departure of Wilson opens up an additional scholarship opportunity for MSU next season. Coupled with the retirement of Keith Pickens at the end of 2012-13 due to chronic knee pain, the Bears now have two scholarships from which to recruit in the offseason.
This season, Lusk's Bears split their last 12 games before falling to Wichita State in the MVC Tournament quarterfinals on March 8. Missouri State, which boasted one of the nation's youngest teams, also ranks fifth nationally in fewest turnovers per game.